We know that UK consumer shopping behaviours have changed throughout and since the covid pandemic hit. The most significant difference is the growth of e-commerce and online delivery.
Total online retail sales growth for 2020 was up 36% year-on-year. This is the highest annual growth seen since 2007, according to the IMRG Capgemini Online Retail Index.
The last-mile delivery challenge
A study has found that consumers are changing their online shopping habits based on their previous experiences with the retailer. A customer is inclined to switch retailers or be deterred from purchasing if delivery times are too long [50%], returns are difficult or costly [42%], and if there is limited stock [38%].
The results also found that 73% of people prefer home delivery, over click and collect and locker options.
Despite being armed with the statistics, what are retailers doing to prevent last-mile delivery problems?
Outdated technology, inadequate route planning, unpredictable elements and high delivery costs are just some of the difficulties faced by businesses when planning their last-mile strategy. Let alone trying to influence customer decision-making and future loyalty.
Stanley has worked with major UK retailers to help them develop their last-mile strategy.
The Sprinter 85 powered stair climber enables retailers and couriers to deliver goods safely and efficiently.
Benefits include:
The risk of manual handling injury considerably reduced.
Single operator use reduces the resource required.
Improved customer delivery experience
The risk of the goods becoming damaged during delivery is lessened.
Faster door-step delivery time
Manoeuvrable on tight landings, spaces, and over awkward thresholds
The Sprinter 85 powered stair climber enables sellers to deliver goods safely and efficiently where access is difficult, or stairs are an obstacle. The lightweight machine not only protects the employee during the delivery drop but also improves the customer experience. The powered stair climber is designed to satisfy the growth in online and same-day delivery as well as allowing for more deliveries per shift.
The video below shows the comparison between a traditional sack truck delivery by two colleagues and the Sprinter 85 powered stair climber delivery, carried out by a single operator. Significant time savings can be made using a powered stair climber, the goods being delivered are less likely to become damaged and the risk of injury to the worker is reduced.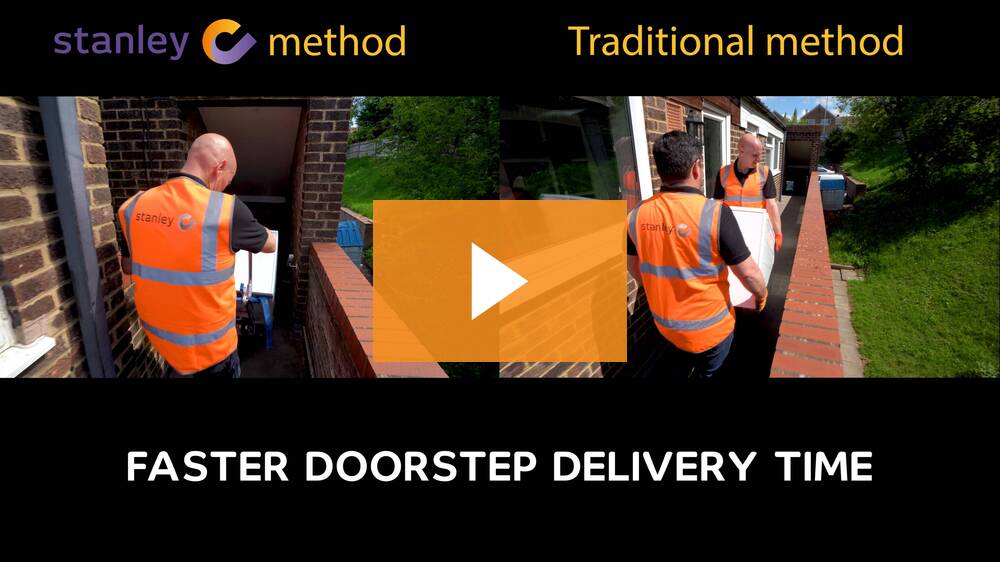 Stanley's range of powered lightweight stair climbers is proven in trials to deliver safe and cost-effective goods handling, which when scaled up, offers a significant positive return on investment. Ideal for the majority of home deliveries with a carrying capacity of up to 85Kg but weighing just 13.5kg, the Sprinter 85 stair climber trolley offers retailers and courier firms an ideal solution.
With simple push-button control and twin speed function, the trolley's caterpillar tracks and puncture-proof tyres enable a single operator to deliver loads up and downstairs both safely and quickly. Its compact and foldable design facilitates easy onboard stowage and a one-hour fast charge battery ensures continual reliability.
For a free demonstration or more information call 0800 298 2980 or email [email protected]